If you work from more than one computer, it can be frustrating keeping on top of what documents are on which machine, and if the same document is on both machines – which is the most up-to-date version?
Dropbox is great for dealing with this situation. And provided you don't use more than 2gb storage space, Dropbox is FREE!
What is Dropbox?
Dropbox is a folder on your computer where you put the documents you are working on – it can contain as many sub-folders as you like.
Here is my Dropbox – it's a subfolder within My Documents which contains several subfolders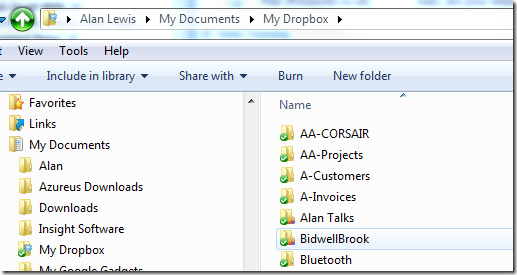 Automatic Synchronization and Backup
The neat thing about it is that Dropbox uploads its contents to my Dropbox account on the web. Any document I add to any of the folders in Dropbox, or anything I change or delete, automatically gets added, changed or deleted in Dropbox on the web.
But if I have a laptop at home and a PC at work, I can install Dropbox on my other computer, and it will synchronize the Dropboxes on both computers. I'll have one set of files, which always contains the latest version of whatever I am working on.
No more emailing stuff from work to home, or carting stuff about on a USB memory key and getting confused as to which is the most up to date version of a document I am working on.
Notice the green ticks against the folders. When new files are added or changed, this tick changes to a blue recycle icon, which shows that folder is being synchronized. When synchronization is complete it changes to green again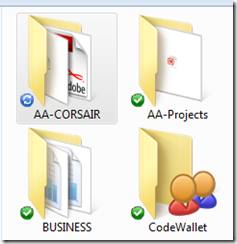 This means that I'll have a copy of my files on my home laptop, an identical copy backed up on the web, and another identical copy on my work PC – all kept in sync.
If you keep your favorites and bookmarks in sync using Xmarks, you'll have pretty much everything you need to work on any machine. And if you're using someone else's computer, you can just go to your Dropbox on the web, log into your account and download any files you choose, or upload anything you want to add. When you log into your PC next time, Dropbox will take a short while to sync again and then you'll be up-to-date again
Dropbox as an Online Backup Tool
Dropbox is not the most versatile of online backup tools. You can't schedule backups, the app runs all the time and takes quite a bit of RAM to run. I get around this by not running dropbox automatically – I manually start it when I choose, so that it is not running in the background all the time, and doesn't slow any other programs down.
Dropbox is also not suitable for backing up your whole computer – programs and everything. It'll only back up what is within Dropbox. But it is so simple and easy to use. There are other alternatives, however…
If you do want to sync a folder outside of Dropbox you need to use a third party tool like Junction Link Magic. I use this to include my Desktop files and folders in what gets backed up, so anything I dump on the desktop  will be included in Dropbox
One brilliant feature of Dropbox, is that it keeps previous versions of files for up to 30 days. So if you have accidentally over-written a previous version, you can go to your Dropbox account on the web and restore the earlier version.
Backing up Outlook
The simplest way of backing up Outlook into Dropbox (so your emails, calendar and contacts are backed up online) is by using the Outlook Personal Folders Backup add-in from Microsoft. (There is no equivalent version for Outlook Express but Outlook Express Backup is a free program which does something similar).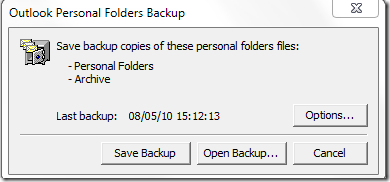 This neat add-in is easy to configure, and will automatically back up your Outlook data file to a folder of your choice. I have an Outlook Backup folder in Dropbox, and I've set the Personal Folders Backup to happen every day, so whenever I close Outlook it will prompt me to save a backup if it hasn't done one that day. It's very neat.
Dropbox as a Collaboration Tool
It is possible to Share folders with another Dropbox user. My partner Vanessa and I collaborate on our website Zen Moments, and so we have a shared Zen Moments folder in our Dropboxes. Whatever either of us adds, changes or deletes in this folder will be updated in the other person's shared folder in their Dropbox. This is great as a collaboration tool.
Dropbox Public Folder
This is a folder where I can put files which I can share with others. It is not fully a Public folder – if you try to open the folder itself http://dl.dropbox.com/u/677812/ you will get a 404 not found message
However it allows me to place files there and create a link which I can share with others
For example, I created a Windows 7 Barn Owl Feathers Theme and I want to make that available for download. I simply copy the file into Dropbox's Public Folder, and create a download link that looks like this: http://dl.dropbox.com/u/677812/BarnOwlFeathers.themepack
Further Information:
See www.dropbox.com – versions for PC, Mac, Linux, iPhone, iPad, Android & Blackberry
Dropbox currently comes in 3 flavours – Free 2gb version (has all the features of the paid version), $99 per year for 50gb, and $199 per year for 100gb.
If you introduce your friends to Dropbox you can earn free storage – up to 8gb for the free version and up to 16gb for the paid version
Dropbox is extremely popular see an early adopter's' Review here.
Dropbox was voted one of Lifehacker's Five Best File Syncnig Tools


Dropbox Features

File Sync

Dropbox allows you to sync your files online and across your computers automatically.

2GB of online storage for free, with up to 100GB available to paying customers.
Sync files of any size or type.
Sync Windows, Mac and Linux computers.
Automatically syncs when new files or changes are detected.
Work on files in your Dropbox even if you're offline. Your changes sync once your computer has an Internet connection again.
Dropbox transfers will correctly resume where they left off if the connection drops.
Efficient sync – only the pieces of a file that changed (not the whole file) are synced. This saves you time.
Doesn't hog your Internet connection. You can manually set bandwidth limits.

File Sharing

Sharing files is simple and can be done with only a few clicks.

Shared folders allow several people to collaborate on a set of files.
You can see other people's changes instantly.
A "Public" folder that lets you link directly to files in your Dropbox.
Control who is able to access shared folders (including ability to kick people out and remove the shared files from their computers).
Automatically create shareable online photo galleries from folders of photos in your Dropbox.

Online Backup

Dropbox backs up your files online without you having to think about it.

Automatic backup of your files.
Undelete files and folders.
Restore previous versions of your files.
30 days of undo history, with unlimited undo available as a paid option.

Web Access

A copy of your files are stored on Dropbox's secure servers. This lets you access them from any computer or mobile device.

Manipulate files as you would on your desktop – add, edit, delete, rename etc.
Search your entire Dropbox for files.
A "Recent Events" feed that shows you a summary of activity in your Dropbox.
Create shared folders and invite people to them.
Recover previous versions of any file or undelete deleted files.
View photo galleries created automatically from photos in your Dropbox.

Security & Privacy

Dropbox takes the security and privacy of your files very seriously.

Shared folders are viewable only by people you invite.
All transmission of file data and metadata occurs over an encrypted channel (SSL).
All files stored on Dropbox servers are encrypted (AES-256) and are inaccessible without your account password.
Dropbox website and client software have been hardened against attacks from hackers.
Dropbox employees are not able to view any user's files.
Online access to your files requires your username and password.
Public files are only viewable by people who have a link to the file(s). Public folders are not browsable or searchable.

Mobile Device Access

The free Dropbox iPhone app lets you:

Access your Dropbox on the go.
View your files on your iPhone or iPod Touch.
Download files for offline viewing.
Take photos and videos and sync them to your Dropbox.
Share links to files in your Dropbox.
View interactive photo galleries.
Sync downloaded files so they're up-to-date.

A mobile-optimized version of the website is available for owners of Blackberry phones and other Internet-capable mobile devices.