See also: Change or Reset the Office Product Key
In general Microsoft Office licences allow two activations – one on a main computer and another on the same user's portable computer.
FAQ about Office End User Licence Agreements (EULA)
You may wish to install Office a different computer
You installed and activated Office on one computer, but you have uninstalled it from that computer and want to install it on a different computer.
You installed and activated Office on one computer, but then the computer is destroyed in a house-fire.
You purchase a new computer, you install MSOffice, but when you try to activate you receive an error message that is similar to the following: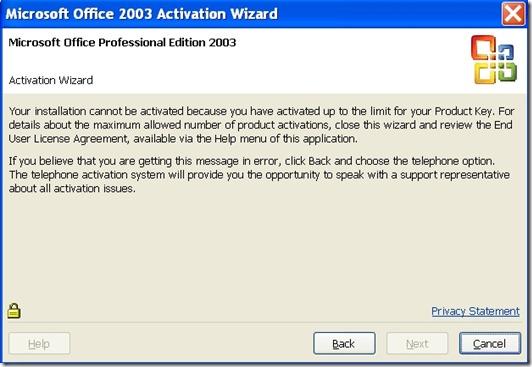 Your installation cannot be activated because you have activated up to the limit for your Product Key. For details about the maximum allowed number of product activations, close this wizard and review the End User License Agreement, available through the Help menu of this application.
If you believe that you are getting this message in error, click Back and choose the telephone option. The telephone activation system will provide you the opportunity to speak with a support representative about all activation issues.In this case select
"I want to activate the software by telephone"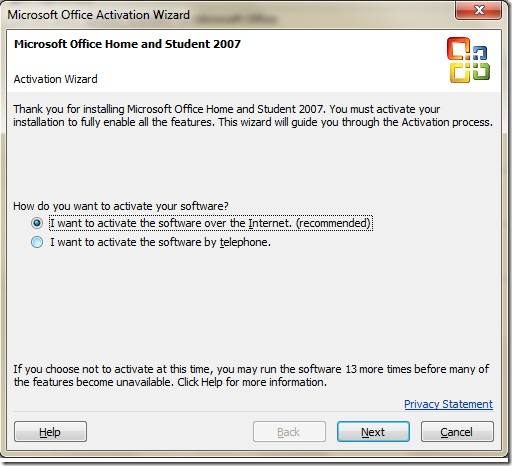 Select your Country and the phone number to call will appear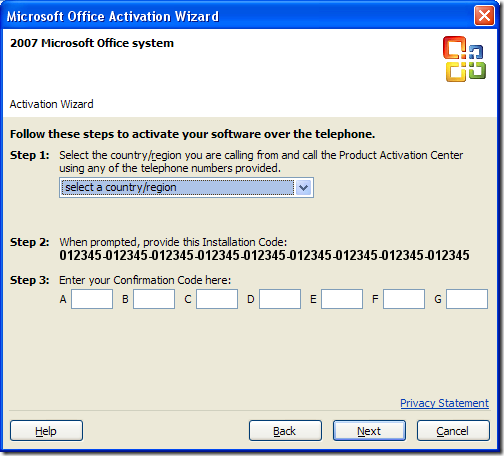 In the UK currently the system is automated. You can key in the Installation code that is shown in step 2.
Either the automated phone voice will say "Your entry was accepted. We will now continue to activate your product" and will read out the groups of six numbers to be entered in step3
Or it will ask you "On how many computers has the software been installed?" to which you reply using the keypad on your phone.
Microsoft does not appear to store the activation information beyond six months, so if you previously installed Office on a computer, and activated it, you may be able to activate it again after six months with no problem.