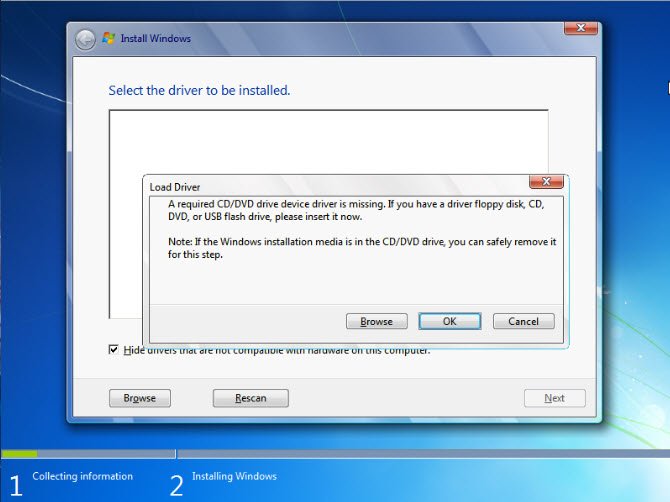 Whenever I try and boot the device on my new computer I get  "A required cd/dvd device driver is missing…" error and a box for me to select drivers. I have tried changing the boot order in the BIOS but to no avail. What can I do?
"A required CD/DVD drive device driver is missing".
Installing from a USB Flash drive is is a convenient and quick way installing Windows 7.
However a common error often occurs early in the installation -"A required CD/DVD drive device driver is missing".
This is confusing, as you are not trying to install from a DVD disk. Although it might seem that the problem is caused by missing drivers, the solution to this is often quite simple
Unplug the USB flash drive and Plug it back into a different port (not a USB 3.0 port)
When Windows is asking for driver, just click Cancel. You will be taken back to the welcome screen.
At the welcome screen, unplug your USB drive, and then plug it back into a DIFFERENT USB PORT.
Click Install Now once more. The installation will now proceed as normal
*Disabling USB 3.0 Support in the bios can also fix the problem.