Alps Dell touchpad icon disappears from  Notification Area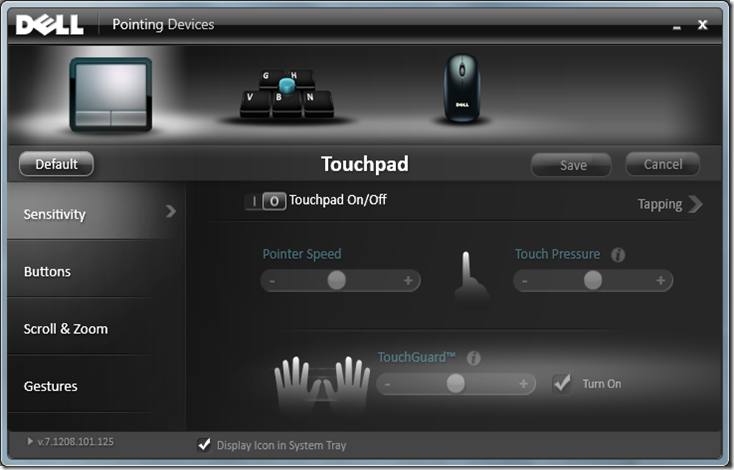 I have a Dell Latitude ES 6520 with an ALPS Dell Touchpad and Trackpad (also called a Trackpoint or Trackstick)
The drivers for this are

DELL_MULTI-TOUCH-TOUCHPAD_A10_R315893.exe

Title      : Input:Dell Multi-Touch Touchpad Driver
Version    : A10
OEM Name   : Dell
OEM Ver    : 7.1208.101.125
Computers  : Latitude – E6320, E6420, E6420 ATG, E6520, XT3, E5520, E5420, E6420 XFR, E6220, E5420m, E5520m, E6410, E5510, E4310, E6410 ATG, E5410, Z600, E6510; Precision – M4500, M4600, M6600 for:

 Windows 7 32-bit
Windows 7 64-bit
Windows Vista 32-bit
Windows Vista 64-bit
Windows XP
This has a nice app which sits in the system tray and is controlled by Fn + F5 – which can be used to turn off the touchpad – this is useful if you use a mouse. I would find that when I type, my wrist would brush the touchpad and randomly move the cursor – it's nice to be able to turn this off when you don't need it.
| | |
| --- | --- |
| Press Fn + F5 to disable the trackpad stick | Press Fn + F5 again to disable the Touchpad |
| Press Fn + F5 again to disable both touchpad and trackpoint | Press Fn + F5 to enable both touchpad and trackpoint |
Troubleshooting – Restoring the Touchpad to the Notification Area
After an automatic Dell Client System Update, my touchpad was updated to version 7.1211.101.118

Following this my Trackpad control disappeared, leaving just the Touchpad and mouse, as shown below.
The Notification Area / System Tray icon also disappeared – and also the Fn +F5 functionality stopped working
My touchpad control looked like this, and despite the item "Display Icon in System Tray" being checked, no icon appeared.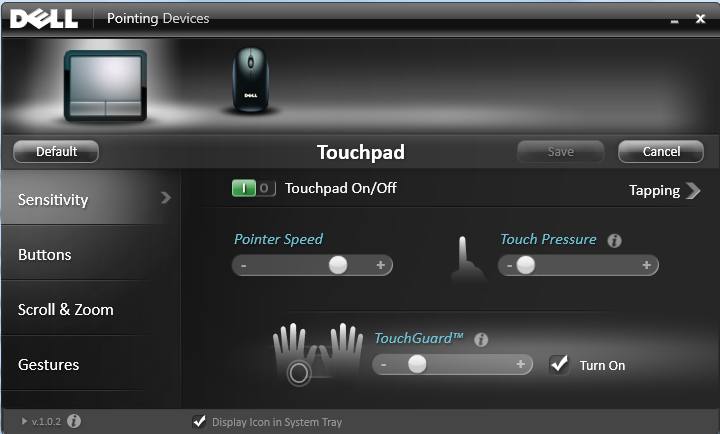 Apoint.exe (the touchpad software) is shown in Device Manager as loaded – but the tray icon was not present.
I tried uninstalling the touchpad driver and reinstalling the original, I tried System Restore also, but nothing would bring back the original configuration.
So I decided to search through the Registry (Start –> Search –> Regedit –> Regedit.exe) and delete all references to "ALPS"
I then installed the original driver DELL_MULTI-TOUCH-TOUCHPAD_A10_R315893.exe, restarted my laptop and the missing Tray Icon and functionality returned.