Summary: If you go on holiday or are away from your office for a while, it's really useful to be able to set up a Holiday or Vacation Response – which sends an automated email response to all your incoming mail.
If you are using Outlook, Outlook Express or Windows Live Mail an effective method for setting up a Vacation Response is to set up a GMail account.
From a Gmail account, you can check your Outlook, Outlook Express or Windows Mail email
you can keep in touch with your email when you are away from your computer
you can use Gmail's Vacation Responder to send an automatic out-of-office response when you are on vacation. 
It's a bit of trouble to set up at first, but it is really useful. Once you have it all set up you'll really appreciate having it.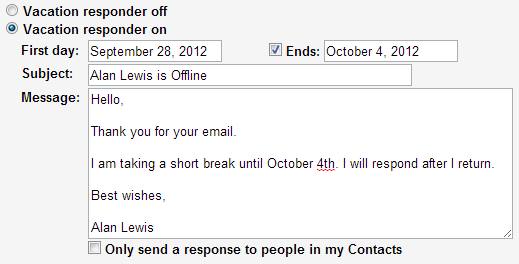 Before we get into setting up an automatic Vacation Responder,  there are a few fundamental issues to consider:
You want to make sure that you don't respond to SPAM emails – a response to a spam email confirms to the spammer that they have found a live email address, and they'll send you more spam
You don't want to send the Vacation Response to the same person each time they send you an email – some people may email you often – you don't need to keep sending them the same  automated reply
Avoid telling people in your auto reply message that you are away from home or abroad – this advertises that your home is empty and potentially ripe for burglary
Avoid, if possible, responding to Mailing Lists – as this vivid example illustrates:
Many years ago a mail storm occurred on our mail server. The lead engineer on our program had activated an email rule to forward all messages he received to the entire engineering staff when the subject line of the message contained certain key words. That produced an out-of-office reply from one of the recipients of the auto-forwarded message, which induced another auto-forward to the engineering distribution list, which induced another out-of-office reply. The ensuing mail storm took down the server. 
quoted from here
A Vacation Responder for Outlook, Outlook Express or Windows Live Mail?
If you are using a POP3 email with Outlook, Outlook Express or Windows Mail you have three options:
Use GMail's Vacation responder with your email address (recommended)

it takes advantage of the sophistication of Gmail
it works with your existing email address, which you use for Outlook, Outlook Express or Windows Mail
it sends an automated reply to incoming messages
If a contact sends you several messages, this automated reply will be sent at most once every 4 days
This will mitigate the mailing list problem mentioned above, although it doesn't circumvent it
Email is filtered for Spam before the auto-responder kicks in
you don't need to leave your computer on while you are away – as it the vacation responder is web-based
you can change or extend the message by logging into Gmail from any web-connected computer
it's very easy to use, and once it's all set up, you can easily set a Holiday Response whenever you need it 



Another option is to see if your POP3 email provider gives webmail access – see here – however:

it can be difficult to find your the webmail login page for your email address
often webmail interfaces do not provide sophisticated tools such as auto-responders



Or leave your computer running all the time while you are away, and set it to answer your email

Incoming emails are responded to through a message rule that you set up.
This is a very inconvenient solution:

All incoming mail is responded to, including Spam
You have to stop your computer going into standby or turning off while you are away
a power cut while you're gone could turn the computer off
you cannot change the message or turn it off while you are away
It's not a very green solution – it needlessly uses energy
Note: If you are using Outlook on a corporate network which uses Microsoft Exchange, you can use the Out of Office Assistant. If you are not connected to a corporate network, and are using POP3 download your email into Outlook, there is no Out of Office Assistant.
---
Setting up a Vacation Response through GMail
If you don't already have a Gmail account you'll need to set one up. Detailed instructions for configuring Gmail to work with your existing email address are given this article:  Setting up a Gmail Account to Use your Existing Email Address 
you can set up an auto-responder at the bottom of the General tab under settings
you can turn this holiday responder on and off at will from any web-connected computer
the auto response can be set up to automatically turn off on a pre-set date
your email will be answered by the Gmail Vacation response
Setting an automatic vacation response – Instructions from GMail Help:
Going on vacation? No access to the Internet? No problem! Use Gmail's vacation responder to let people know you won't be able to get back to them right away.

You can set up a vacation response in your Gmail settings that will automatically reply to anyone who emails you. While the vacation responder is enabled, Gmail will send a response to anyone who contacts you. If that person contacts you again after four days and your vacation responder is still enabled, Gmail will send another vacation response to remind the person that you're away from your email.

Here's how to set up a vacation response:

Click the gear icon in the upper right, then select Settings.
From the General tab, select Vacation responder on in the Vacation responder:section.
Enter the subject and body of your message in the Subject: and Message: fields.

If you've enabled a personalized signature in your settings, Gmail will automatically append it to the bottom of your vacation response.

Check the box next to Only send a response to people in my Contacts if you don't want everyone who emails you to know that you're away from your mail. 
Click Save Changes.

While the vacation responder is enabled, you'll see a banner across the top of any Gmail page, displaying the subject of your vacation response. To stop Gmail from automatically sending the response, click end now within the banner. Or, if you'd like to edit the response, click vacation settings.

Your vacation response will start over each time you edit it — if someone receives your initial vacation response, and then emails you again after you've edited the subject or body of the message, he or she will receive the edited response, too.