It's possible to take advantage of all the convenience of a Gmail account, but still use your existing email address.
This is how it's done:
Sign up for a Free Gmail Account 
Add your existing email address to Gmail so that you can compose and reply to emails with your existing email address
and use Mail Fetcher to pull a copy of all of your emails into Gmail. 
Add your existing email address to Gmail:
Go to http://mail.google.com and set up a new Gmail account.
I set up alanlewiscalmit-at-gmail.com;- I don't intend to use it as an email address for sending mail, but this enables me to use Gmail's facilities.
In Gmail go to Settings –> Accounts and Import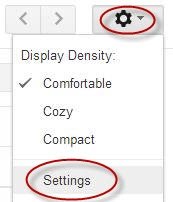 Under Accounts and Import we want to add our normal email address, so click on Add another email address you own

I am adding my main email address: alan-at-calmit.org;
Note: Uncheck "Treat as an alias" – if you don't want it to appear that your email is coming from Gmail
In the next screen select Send through Gmail: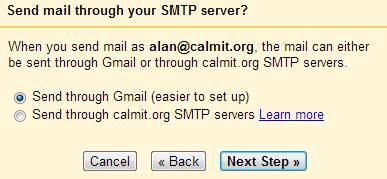 The next screen asks you to verify your email address: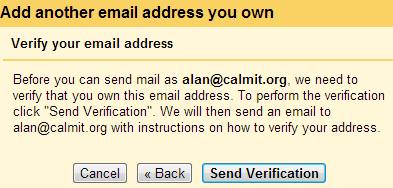 Enter the verification code contained in the verification email:

Now I can send email either from my new Gmail address (which I don't want to do), or from alan-at-calmit.org

This is the one I want to use, so against  I click on make default and select "Always reply from default address (currently alan-at-calmit.org)" at the bottom.
Set up Gmail to Check Mail from your Main Email Account
Staying with the Accounts and Import tab click on Add a POP3 mail account you own account to set up Mail Fetcher

this pulls a copy of all your emails into Gmail where it will be stored
your emails will also still still be received in Outlook, Outlook Express or Windows Live Mail as normal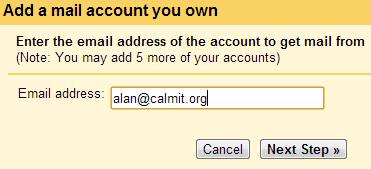 Enter your mail account settings
Make sure you check "leave a copy of retrieved message on the server" so that your emails will also still still be received in Outlook, Outlook Express or Windows Live Mail as normal
The email account has now been added to Gmail:

I normally turn off Conversation View (under the  General settings tab) so that the emails stack up as they come in, rather than getting grouped together

now a copy of all your emails will come into Gmail (you'll have 10gb of storage space)
this is a great way to keep a backup of all your email
you can access your email from any computer connected to the internet,