Install the UBIT menu add-in – keep Word and Excel 2003 style menus in the Office 2007-2010 Ribbon – easily find the commands you spend time looking for
When I first started using Microsoft Office – we were using Word 6 with Windows 3.1, in the days when Office was installed from about 26 floppy disks.
We skipped over Word 7 (which came on CD within Office 95) and moved on to Word 97. This was subsequently superseded by Office 2000, then 2002, 2003 and finally we are at version 2007.
In the early days, when you went up a version of MSWord you noticed great improvements. It really was worth upgrading – plus the fact that the file format changed with Word 97 – although it was backwards compatible, if you were using Word 6 or Word 7 you couldn't open documents created with Word 97.

However with Word 2000 and beyond the need to keep upgrading became less and less – the core of the program was so competent that there was no need to upgrade, and the file format remained unchanged right up to Word 2007, which introduced the docx format.
MSWord 2007 along with the other Office 2007 programs introduced a radical new toolbar – the Ribbon – which takes some getting used to.
Tip # 1: Install UBITMenu Shortcuts
When you start working with Word 2007, it can be very frustrating trying to find commands and features which you knew how to get to in previous versions of Word.
A great and Free add-on which can ease the transition is to install the UBitMenu Shortcuts, which installs a new Menu item between Home and Insert, which puts back all your old familiar menus from earlier versions of Word.

You can download this add-on from http://www.ubit.ch/software/ubitmenu-languages
After downloading and installing your languages classic menu, you will see the old menu as the second tab of the ribbon in Word 2007, Excel 2007 and PowerPoint 2007.
Tip # 2: Changing the Office 2007 Default File Format
from http://www.msoffice-tutorial-training.com/office-2007-compatibility-issues.html
Many users of Word are still using older, pre 2007 versions. When you send an attachment in Word 2007 (docx) format, you can give your users a hard time – the attachment maybe unreadable unless your recipient is running MSWord 2007 or has installed the Office 2007 File Converters
You can, however set Word 2007 to always save in Word 97-2003 Document (*.doc):
Click the Office button, then the Word Options button.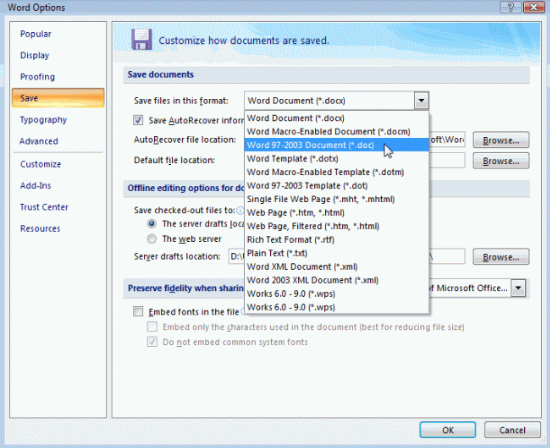 From the Word Options dialog box displayed, select Save in the left pane. Choose Word 97-2003 Document (*.doc) from the Save files in this format: drop-down list.
Click OK button.
Note: When you save a file in the old format that was originally created in the new format, you may get a message advising that some of the formatting and features that are only supported by Office 2007 programs will be lost.