Laptop Brightness Control doesn't work after upgrading to Windows 7
I recently upgraded to Windows 7 Professional x64 on my laptop – a Dell Latitude D530.
Everything went well and all the hardware components were recognized by Windows 7. However the Fn+(page up/down) display brightness control would not work and in Control Panel –> Power Options the Screen Brightness Slider would not move.
This frustrating problem is being reported in many places.
I tried going to the Intel website and downloading the latest drivers, but no luck.
With a 32bit installation I had tried installing the Dell Latitude D530 Vista drivers, according to this advice so that the brightness control worked, but this made the system unstable. The same fix would not work for 64 bit Windows 7 as there were no 64 bit Vista drivers available from Dell.
Thanks to the solution given here the Intel GM965 Express Chipset drivers given below do work on my Dell Latitude D530 (Windows 7 64 bit) and restore the Fn+(page up/down) display brightness control functionality.
INTEL GM965 EXPRESS CHIPSET Video Drivers:
Other solutions:
Free Download Windows 7 – Create a Windows 7 Installation DVD or USB Flash Drive
Alternative Solutions:
1. F.lux – Automatically Adjust Screen Brightness and Color to the Time of Day
Makes your computer screen softer on the eyes when working at night – this is a very popular alternative – good review here
From stereopsis.com/flux
Ever notice how people texting at night have that eerie blue glow?

Or wake up ready to write down the Next Great Idea, and get blinded by your computer screen?

During the day, computer screens look good—they're designed to look like the sun. But, at 9PM, 10PM, or 3AM, you probably shouldn't be looking at the sun.

F.lux fixes this: it makes the color of your computer's display adapt to the time of day, warm at night and like sunlight during the day.

It's even possible that you're staying up too late because of your computer. You could use f.lux because it makes you sleep better, or you could just use it just because it makes your computer look better.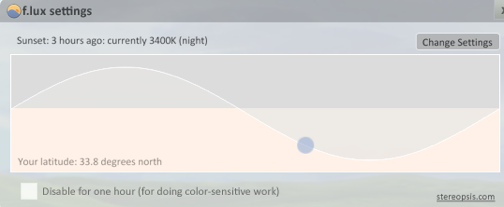 f.lux makes your computer screen look like the room you're in, all the time. When the sun sets, it makes your computer look like your indoor lights. In the morning, it makes things look like sunlight again.

Tell f.lux what kind of lighting you have, and where you live. Then forget about it. F.lux will do the rest, automatically.
2. Desktop Lighter
You could also try the Freeware stand-alone brightness control called Desktop Lighter
It runs unnoticed in the system tray, uses only 1.5mb RAM, launches with Windows and uses Ctrl+> and Ctrl+< keys to control the brightness rather than the Fn keys
This is not a "true" brightness control – it doesn't cut the power consumption, but uses some software manipulation of the screen function to dim the screen. I used it for a while until I found the driver above, and it was useful if I wanted to read at night in bed without hurting my eyes or disturbing my partner – but it's no substitute for the real thing!