It is possible to migrate or transfer your Outlook Email Account settings direct from the Registry and copy them to a new PC.
To do this open the Regedit on the original PC and go to:
HKEY_CURRENT_USER\Software\Microsoft\Windows NT\CurrentVersion\Windows Messaging Subsystem\Profiles\Outlook
It's usually a good idea to back up the existing registry key on the new PC before deleting it. Remember to always make a registry backup first.
Back up your existing Outlook data:
Save the PST file (which is your Post Office file, containing all the e-mails, calendar, address book, etc)
Export your Email RULES
Back up your Mail Passwords using MailPassView see http://www.nirsoft.net/utils/mailpv.html

MailPassView is often detected as a virus or trojan – this is a False Positive – see here for explanation. To make use of MailPassView you may have to temporarily disable your antivirus software
Export the aforementioned Registry HKEY_CURRENT_USER\Software\Microsoft\Windows NT\CurrentVersion\Windows Messaging Subsystem\Profiles\Outlook
Transfer your Outlook Settings to another PC:
Open Outlook at least ONCE, and DO NOT create an e-mail account a this time. Just follow the start up screens until it is done.
Find out the location of your PST file (go to TOOLS -> ACCOUNT SETTINGS –> DATA FILES). Take a note of the PST file location or use Where's My PST?.
Close Outlook (don't minimize, CLOSE IT).
Go to the folder where the PST file is located and DELETE IT, replacing it by your own backup copy
Open the REGEDIT and import the KEY with your email accounts settings
Open Outlook again. It may give you an error message. Just ignore it and close the message window. Outlook will open with all your e-mails and accounts already restored.
Your email passwords will need to be manually inserted.
Import the RULES back (TOOLS -> RULES AND ALERTS -> OPTIONS -> IMPORT RULES). Note that you may have to "adjust" some rules in very rare cases. In most cases you just need to re-enable them.
As your PST file uses "direct access" to link some "shortcuts", the Address Book link will probably be lost (but all the addresses you have are still there). To fix it just delete the EMPTY address book on the tree and link yours using the address book tool to fix the shortcuts (TOOLS -> ADDRESS BOOK).
In Office 2007 the Registry Key also carries the RULES, so then you don't need to export them.
With previous version of Outlook the rules require the exporting method.
Change location of PST file that Outlook is Looking for, by going to Control Panel –> Mail (32bit) –> Data Files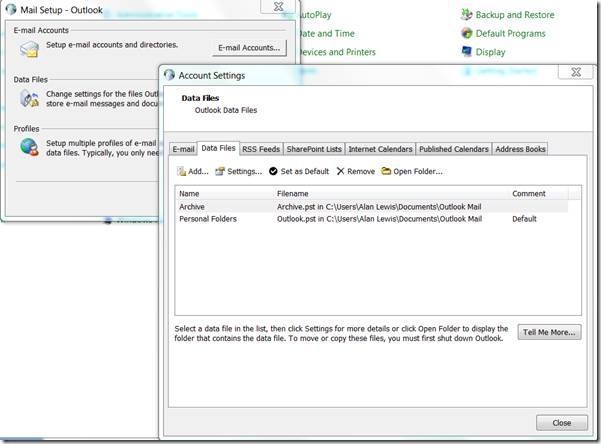 You can also manually recover the Outlook Email Account settings.
Abstracted from: http://www.pcreview.co.uk/forums/thread-3457526-2.php