Where to get MDOP / MS DaRT / ERD Commander 2011 for Vista and Windows 7
The latest versions of ERD Commander for Vista and Windows 7 are contained in The Microsoft Diagnostics and Recovery Toolset (MSDaRT ) which is part of the Microsoft Desktop Optimization Pack (MDOP).
An overview of MSDaRT is here and MDOP brochure is here
In order to obtain the latest versions of ERD Commander, you need access to Microsoft Desktop Optimization Pack (MDOP) which contains MSDaRT.
Full Versions of MDOP are available to Microsoft Volume Licensing customers who acquire a Software Assurance subscription license. More details are here. Subscribers can download MDOP through the Microsoft Volume Licensing Site (MVLS).
According to the Technet MDOP Blog, evaluation versions of the MDOP software (with no time or feature limitations) are available to:

Desktop Optimization Pack 2008 – ERD Commander 2008
Desktop Optimization Pack 2009 – ERD Commander 2009
Desktop Optimization Pack 2010 – ERD Commander 2010
Desktop Optimization Pack 2011 – ERD Commander 2011
A $199 TechNet Standard Subscription – gives you access to a whole range of full-version Microsoft software to download for evaluation – including MDOP / MSDaRT / ERD Commander – with no time or feature limitations.
TechNet Subscription Standard – The ultimate resource for IT professionals working in a desktop environment – is a subscription tailored to help IT professionals evaluate, test, and troubleshoot Microsoft software for desktop environments. TechNet Subscription Standard is a 12-month subscription for IT professionals who need access to full-version Microsoft software for evaluation, with no time or feature limitations. (quoted here)
US TechNet Standard subscription costs $199 annually and $149 to renew
A UK TechNet Standard Subscription costs £159
A note on Unofficial Downloads of ERD Commander: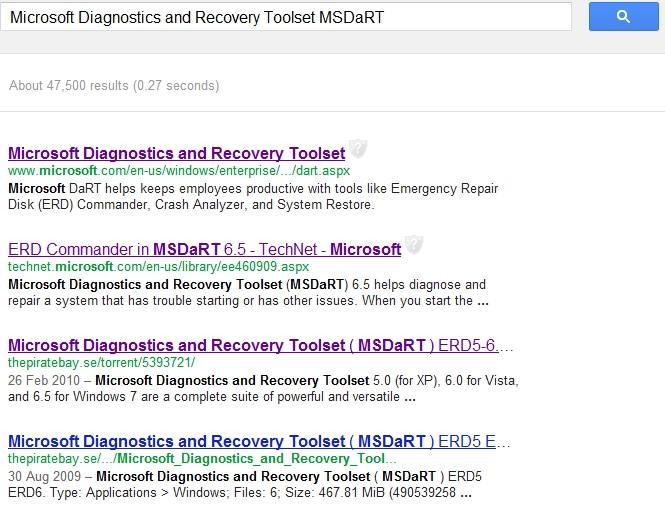 Microsoft have made it difficult to get hold of ERD Commander for Vista and Windows 7. ERD Commander was orginally available as ERD Commander 2003 – part of the Winternals Admin Pack. But since Winternals was bought by Microsoft in 2006, ERD Commander is no longer an over-the-counter product available to the general public. However, it is clear that there is enormous persisting interest in MSDaRT and ERD Commander, but there is still no easy means of getting hold of such a useful tool.
If you search Google for Microsoft Diagnostics and Recovery Toolset MSDaRT the top two links take you to Microsoft, but most of the rest of the links are to torrent sites for illegal downloads of ERD Commander torrents:
Some interesting observations about this phenomenon were made by Gabe Newell (who spent thirteen years working for Microsoft) of Valve, the creator of Steam – a highly successful Games Software distribution channel:
Newell said that the way to end piracy is to provide a service that's more complete than cracked software, and that restrictive DRM only encourages more piracy.

"We think there is a fundamental misconception about piracy. Piracy is almost always a service problem and not a pricing problem," he said. "If a pirate offers a product anywhere in the world, 24 x 7, purchasable from the convenience of your personal computer, and the legal provider says the product is region-locked, will come to your country 3 months after the US release, and can only be purchased at a brick and mortar store, then the pirate's service is more valuable."

The proof is in the proverbial pudding. "Prior to entering the Russian market, we were told that Russia was a waste of time because everyone would pirate our products. Russia is now about to become [Steam's] largest market in Europe."
If Microsoft are not willing to release MSDaRT and ERD Commander to the general public – we can expect pirate websites such as The Pirate Bay to continue be the main sources of supply of torrent versions of these useful utilities.