If you are running a small business, you need to invoice your customers.
What is an invoice?
An invoice or bill is a commercial document issued by a seller to the buyer, indicating the products, quantities, and agreed prices for products or services the seller has provided the buyer. An invoice indicates the buyer must pay the seller, according to the payment terms. …
en.wikipedia.org/wiki/Invoice

What is a Pro Forma invoice?

An invoice that is sent before goods are supplied, that tells the customer how much to pay.
You might look for a free invoice program, form or template, or small business invoice software, but unless you have an accounts package that generates printable invoices or invoice forms, you will probably end up having to create your billing invoices yourself.
There are various Microsoft Office Invoice Templates, in both MS Word and MS Excel – but nothing I found would automatically create invoices with sequential invoice numbers.
So I decided I would have to figure out how to make an invoice template which would generate blank invoices with sequential invoice numbers.
The resulting Sequentially Numbered Invoice Template gives a very simple invoice format which can be used as a sales invoice form, or general business invoice or commercial invoice.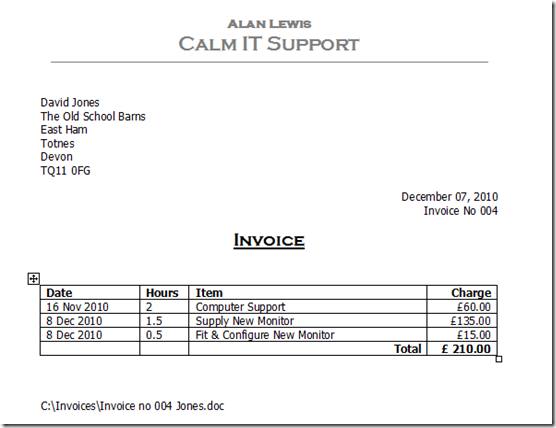 Here is the above Invoice Sample created by this template
Download this Useful Free Microsoft Word Invoice Creator:
Generates a blank invoice form each time you use it (no need to delete the text of an old invoice)
Uses Microsoft Outlook Address Book to select the Person the invoice is for
The Person's Address is Inserted at top LHS for sending using a Window Envelope
Today's Date is Automatically Inserted on the RHS
Sequential Invoice Numbers are Automatically Inserted on the RHS
Invoice is automatically saved in Invoices Folder
Unique File Name is created using Invoice Number and Surname
Invoice Total can be calculated by highlighting the total figure and pressing F9
 You can download my Free Microsoft Word Invoice Template from Here as a zipped (compressed) file
Save this file Invoices.zip to the root of the C drive C: (i.e. not saved into a folder)
Extract the contents – right click and select Extract Here (or double click and extract the contents)
This will give you a folder containing two files – Invoice.dot and Settings.txt
You should now have an Invoices folder in your C drive containing these two files
This is also where your invoices will be stored when you have created them.
To create a new invoice – double click on the file Invoice.dot file. This will create a new blank document.
If MS Outlook is not opening it will ask you to Choose Profile – Click OK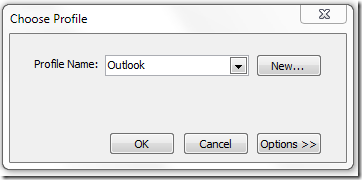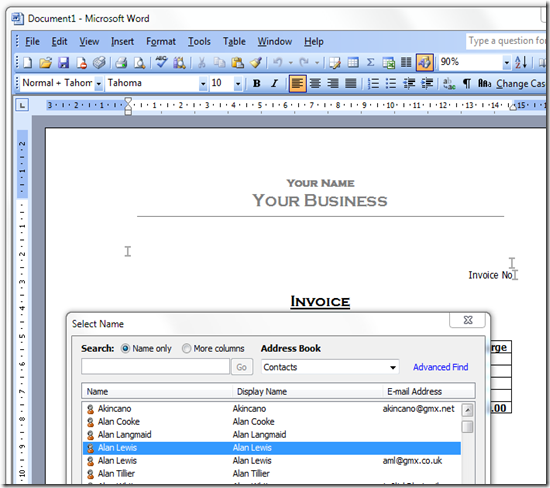 You will be asked to select the name of the recipient from the Outlook Contacts list
Select your chosen recipient and press OK – above I have selected Alan Lewis
As soon as you press OK, the invoice is saved in C:Invoices using the invoice number and surname in the file name – in this case "Invoice no 003 Lewis.doc"
The date and the invoice number are automatically inserted.
The next invoice you create will have the next number in the series.
I suggest you put a shortcut to the Invoice Template on your Desktop, so that you can create invoices from there. To do this right click Invoice.dot and drag to your desktop and select "Create Shortcut"
You could also create a shortcut to the Invoices folder from your Documents folder, so that you can access it easily.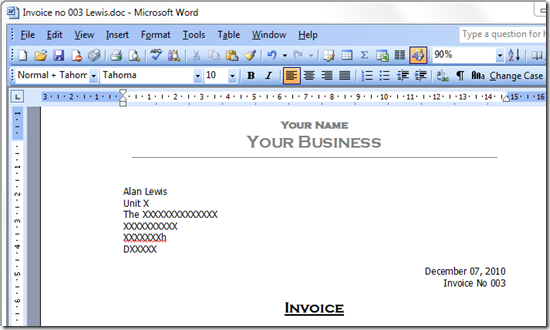 Editing and Customizing your Invoice
To edit and customize the Invoice.dot template:
Right click on Invoice.dot and select Open. This opens the template for editing in MS Word
To customize the header and footer (greyed out area at the top and bottom) double click on the greyed out area
To Modify the Invoice Numbering Sequence
If you have produced an invoice that you need to delete, you may wish to adjust the numbering sequence. Open the file Settings.txt
modify the number: the following shows that 3 invoices have been issued, so the next number generated will be 004. You can adjust the Order= number
[MacroSettings]
Order=3
To customize the automated formatting in the VB Code
Go to Tools –> Macro –> Visual Basic Editor
A window will come up with the following Code – you can edit this to suit your needs:
You could remove the code which asks for the address and after the address bookmark
You could modify the structure of the file name with which the invoice is saved
You could change the file save location and location of Settings.txt – if you want the invoice folder within your documents folder
You could modify the date format (I use British English format)
The code inserts entries at three bookmarks – shown below as greyed out I beams

If anyone would like to adapt the Invoice Template for American conventions – Date format, Paper Size = Letter etc, please send the file to me and I will make it available here.
This is the VB Code – the green sections are commented out – any line which begins with a comment mark will not run code.
---
Sub AutoNew()
'This first section looks up the last used invoice number
'- which is stored in C:InvoicesSettings.Txt
'and adds 1 to the last used number
Order = System.PrivateProfileString("C:InvoicesSettings.Txt", _"MacroSettings", "Order")
If Order = "" Then
Order = 1
Else
Order = Order + 1
End If
System.PrivateProfileString("C:InvoicesSettings.txt", "MacroSettings", _"Order") = Order
Dim strAddress
Dim strSurname
strSurname = ""
'Bring up the Outlook Select-Address Window
strAddress = Application.GetAddress(DisplaySelectDialog:=True)
'Get the Address for the selected Person
strSurname = Application.GetAddress("", strSurname, False, 2, , , True, True)
ActiveDocument.Range(Start:=0, End:=0).InsertAfter strAddress
'Insert the Address after the Address bookmark
ActiveDocument.Bookmarks("Address").Range.InsertAfter ""
'Insert the Invoice number after the Order bookmark
ActiveDocument.Bookmarks("order").Range.InsertAfter Format(Order, "00#")
'Insert the date after the Date Bookmark
ActiveDocument.Bookmarks("date").Range.InsertDateTime DateTimeFormat:="MMMM dd, yyyy", _
InsertAsField:=False
'Save the document in the Invoices folder with the Invoice number and Surname in the document title
ActiveDocument.SaveAs FileName:="C:InvoicesInvoice no " & Format(Order, "00#") & " " & strSurname
End Sub
This code is based on and an extension of this article
A more elaborate Invoicing Template in Word 2007/2010 can be found http://www.gmayor.com/Invoicer.htm