Free ERD Commander Download for Windows XP  – (30 day Trial Version): Follow the instructions below to remove the 30 day time-limit using a utility supplied with the trial version.
This gives you a full, free working version of ERD Commander for Windows XP with no time-limit!
The Microsoft Diagnostics and Recovery Toolset (DaRT ) contains a trial version of ERD Commander (also known as ERD 50 – and very similar to Winternals ERD Commander 2003) which "Provides utilities and wizards that will help you to perform system diagnosis and repair procedures, such as recovering data, disabling problematic drivers, and removing hotfixes"
ERD Commander was orginally available as Winternals ERD Commander 2005 – part of the Winternals Admin Pack. But since Winternals was bought by Microsoft in 2006, ERD Commander is no longer an over-the-counter product available to the general public.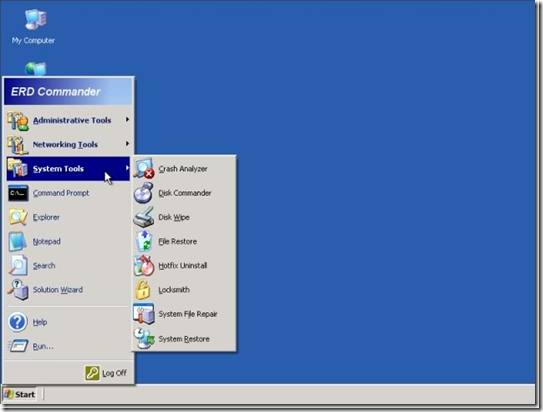 ERD Commander is a very powerful tool. It comes in the form of an ERD Commander ISO file which is burned to a CD which is a diagnostic and recovery boot disk for Windows XP. This is one of the most useful PC diagnostic tools I have ever used.
The ERD Commander boot disc can be used to perform the following tasks through the ERD Commander Boot Media Wizard:
ERD Registry editor: edit or restore Windows registry
Run System Restore – to restore the system to a bootable state
Diagnose and fix problems preventing the system from booting
ERD Commander administrator password reset with Locksmith (reset or change the password without knowing the administrator's password) – great if you're locked out
Crash Analyzer: analyze crash dumps
File Restore: Restore deleted files
ERD Commander fix MBR – Disk Commander: Repair volumes, master boot record, partitions
Disk Wipe: Erase data from hard disk
Computer Management: System Information, Autoruns (configure autostarting applications), Event Viewer, Disk Management (format, manage partitions, etc.), Services and Drivers (enable, disable, etc.)
Explorer: Browse the hard drive,
Move data from the hard drive onto a USB memory key (plug in the key before booting the system with ERD)
Solution Wizard : Choose the proper repair tool
TCP/IP Config: Display and set TCP/IP configuration
Hotfix Uninstall: uninstall hotfixes
SFC Scan: System file repair
Search: Search disk for files
Standalone System Sweeper: Scan your system for malware, rootkits, and potentially unwanted software
Microsoft DaRT (MSDaRT50Eval.msi) is a 30 day evaluation version of ERD Commander, but it also contains a utility which can be used to extend the evaluation period to whatever is desired.
Download:
The full version of ERD Commander 2005 can be downloaded from here
the 30-day evaluation version  (MSDaRT50Eval.msi) can be downloaded from:

chip.de  – click on "Manuelle Installation" and download the file from the next screen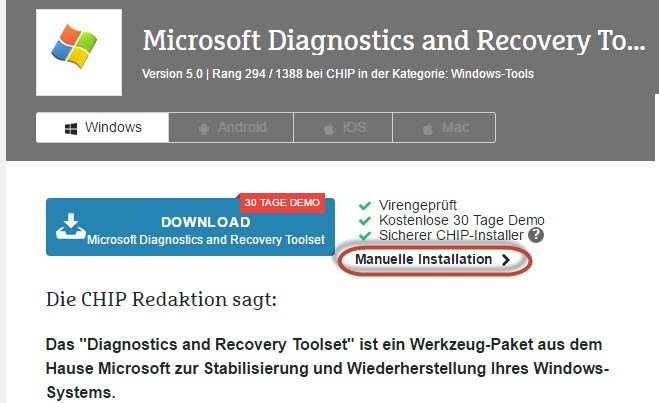 30 day evaluation ERD Commander ISO file
The Microsoft Diagnostics and Recovery Toolset (DaRT ) downloads as a file – MSDaRT50Eval.msi which contains a 30 day trial version of ERD Commander 2007.
When this MSDaRT50Eval.msi   is installed it creates an ERD Commander ISO image – erd50.iso – which is located at C:Program FilesMicrosoft Diagnostics and Recovery Toolseterd50.iso
You can use erd50.iso to burn  an ERD Commander Windows recovery disk
This Windows recovery cd will work for 30 days, after which the following dialog box will appear when an attempt is made to boot a PC from the CD saying "the usage period for this boot image has expired."
Burning another Wndows boot disk CD will make no difference, as the time limitation is encoded into the erd50.iso file. During the installation process a time limit of 30 days from the date of installation is encoded into the erd50.iso file, so even if you try to create another windows recovery cd  from the erd50.iso, the encoded time limit will still commence from the date of original installation. I am not sure if uninstalling MSDaRT50Eval.msi and subsequently reinstalling it will create a new erd50.iso with a 30 day limit that runs from the subsequent installation date, but I suspect that it will still run from the date of first installation.
One way around this would be to note the date on which MSDaRT50Eval.msi was first created, and then if you wished to use it after it had expired, you could set back the date in the bios of the PC you are working on. (This would prevent the use of System Restore – which is date-sensitive)
However, Microsoft included in the installation package a file – Binary.updexp which can be used to extend the 30 day time limit.
"UpdateExp can be used to update the expiration time of a ERD50.iso file. In order to have an iso file with an expiration, you must create the iso by launching erdc with the special /e numDays switch."
How to extend the evaluation period by 99 years (!)
We can use the above instructions to extend the 30 day evaluation period to however long we choose. For this we need the installation file which contains the erd50.iso file,  Universal Extractor software to extract Binary.updexp.exe with which we extend the time limit, and some ISO recording software, to burn the modified erd50.iso to a blank CD.
Here is the recipe:
Download and install Universal Extractorhttp://legroom.net/software/uniextract#download (Freeware) Alternative Download Source
Download and save MSDaRT50Eval.msi from here to your PC
You will need Two Files = erd50.iso and Binary.updexp
The ERD Commander ISO file is erd50.iso
For extending the expiry date, you need Binary.updexp.exe
Extract these files with Universal Extractor = Right click on MSDaRT50Eval.msi –> UniExtract to Subdir


Select MSI Administrative Installer and press OK.
This will create a subdirectory called MSDaRT50Eval
Repeat, selecting MsiX extraction and press OK
erd50.iso and Binary.updexp can now be found in the subdirectory MSDaRT50Eval

Right Click on MSDaRT50Eval.msi (above) and use the first two Extract Methods (below)

If you cannot find Binary.updexp you can download it from http://dl.dropbox.com/u/677812/Binary.updexp.exe
You can also obtain the ERD Commander ISO file by installing MSDaRT50Eval.msi on a Windows XP machine:

double click on MSDaRT50Eval.msi to install it as normal
Go to C:Program FilesMicrosoft Diagnostics and Recovery Toolset and locate the erd50.iso file
Move erd50.iso and Binary.updexp into the Root Directory –  C:

Bring up a Command Window – go to Start –> Run ,  type cmd and hit return
If using Vista or Windows 7 to do this, you must run the Command Windows as an Administrator to get the changes to stick: type CMD into the search box above the start button, right click  on cmd and "Run as administrator" as shown below:

In the command window type in cd to change to the root directory
Type UpdateExp.exe C:erd50.iso 36135 and hit Return (see screenshot below)
If this fails try Binary.Updexp.exe C:erd50.iso 36135

You should see this:

C:>UpdateExp.exe C:erd50.iso 36135

File loaded, searching for expiration in winpeshl.ini
Current time in file is ….
New time will be 36135 day(s) from now.
all done

This procedure has modified the erd50.iso file, so that its original 30 day evaluation period is extended to 36135 days = 99 years
Having done this, you need to burn the erd50.iso file to a CD
Refer to this article on how to burn ISO images to a disc or use http://isorecorder.alexfeinman.com/isorecorder.htm or http://www.imgburn.com/
You now have a Live CD with which you can boot into non-booting systems
Note: this should only be used on Windows XP 32 bit systems. I have successfully used it on Vista 32 bit to reset passwords – but it wipes off all the System Restore points. If you can live with that you can still use it to do other things, like move precious files off your hard drive onto a USB memory key….